31 Aug

Hope for Lung Cancer: Respiratory Gating

As we are all aware, Lung cancer is the leading cause of death amongst all cancer types. In men and women specifically, it is behind breast and prostate cancer in most diagnosis for each of the sexes respectively. Lung cancer is on the rise. There are more and more people smoking, starting at an early age, and then also environmental concerns with smog, pollutants, and asbestos. Once daignosed with lung cancer the odds are against you. If you catch lung cancer early, there is a good chance for cure with surgery only.
 Once Lung cancer gets into stage 2, 3, or 4 things begin to go sour. It isn't impossible, but it becomes more difficult trying to find a cure. Surgery alone will not offer a cure. At these other stages, surgery will need to be done in conjunction with Radiation and Chemotherapy as well.
Chemotherapy is a good mechnism to help in the fight since it goes through out the entire system and can get any microscopic disease that might be left behind after surgery. It will also help in the event that there has been any small spread to other areas. This increases the chances for a successful cure two fold.
Radiation is a good addition as well. The only problem with radiation is that it really damages the lungs. Lung cancer patients already have poor functioning lungs, breathing can be a problem, and shortness of breath. Lungs are very sensitive to any radiation. A very low dose of radaition, that is sub-curative, is all it takes to damage normal lung tissue permanently. On average, you need a dose of about 60Gy to offer a good cure for patients. It only takes 20Gy to offer permanent damage to the normal lung tissue.
Historically with radiation, you had to treat a large volume (or area of of the normal lung) of lung in order to offer patients a HOPE for a cure. This would ultimately damage a portion of the normal functioning lung tissue. This is tissue that can never be used again. The reason for such a large portion of lung being damaged is due to motion. As we breath, lung tissues move up and down, and therefore, so does the tumor. This is an example:


In order to make sure that you are treating all of the lung cancer, you had to treat a large area to account for the cancer moving up and down. So instead of treating a small little 5cm area, you would have to treat a large 36cm area in order to make sure you treat all of it. This depicts the difference in lung cancer volume.
 

Now there is a new weapon in the fight of Lung Cancer: Respiratory Gating.
 Respiratory Gating is a tool that measures a patients breathing cycle. By being able to tell where a tumor is located varying on how a patient is breathing, you can then only treat the tumor when it is in the right range, and turn the machine off when it is out of range. With new machines, you can turn the machine on and off with in milliseconds. This way you can give larger amounts of radiation to the cancer, and less to the normal lung tissues.
In this picture you can see a curve at the top. This curve is measuring a patients breathing cycle. In the images in the bottom, you can see the tumor that has been scanned into the computer system. It has measured the breathing cycle and then the position of where the cancer is based on their breathing.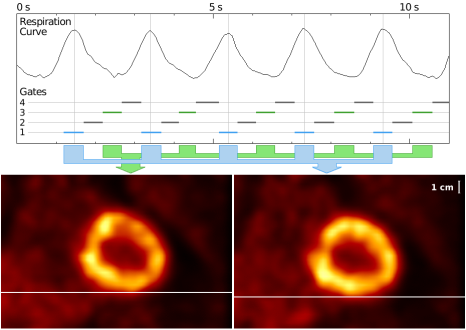 So what all of this means, is that we can set a threshold on the machine for the radiation. Lets say that when the graph is in the middle, the tumor is in the best possible position to give radiation. It will avoid the most normal tissues, and allow us the best shot at giving the most radiation to the cancer. When the graph is at the top, its not a good position because the tumor has moved up and is close to the heart. When the graph is on the bottom, the tumor has moved into a position that places it close to the spinal cord. Historically, we would have to treat all of these areas, with "gating" we can just treat when the cancer is in the middle phase of this breathing cycle on the graph.
This pulsing on and off is what "gating" means. Here is a video that shows how the respiratory gating device works inside the body at the site of the lung cancer. Respiratory Gating: Video.
I also found a really good informational video from the University of Maryland that actually shows a patient with Lung Cancer that is being treated with Respiratory Gating. If you would like to see another example, please check this out:
 Maryland Video.
 Again, this is another new advance in the treatment of cancer care, specifically in the battle against Lung Cancer.
If you have any further questions, please contact me at: CANCERGEEK@GMAIL.COM
-CancerGeek